Mechanic Advisor and Autoshop Solutions
Really Powerful Marketing Partnership
Autoshop Solutions and Mechanic Advisor have partnered to provide your shop with powerful digital marketing.
Mechanic Advisor is a full service marketing platform and provider of telematics. They specialize in helping repair shops drive existing customers back to the shop to perform regular maintenance and necessary services. Each tool and service is designed to build and improve the relationship between car owner and repair shop through loyalty, trust, and communication.
Our special packages* includes the following Mechanic Advisor features partnered with one of our Really Powerful Marketing Programs.
Mechanic Advisor Features:
Local Listing with Online Scheduling
Email, Texting & Postcards
Service Reminders
Telematics
Advanced Reporting
Reputation Management
Web Chat Widget
Contact Us Today!
*Special package pricing for first time customers only. Prices are subject to change. Terms and conditions may apply.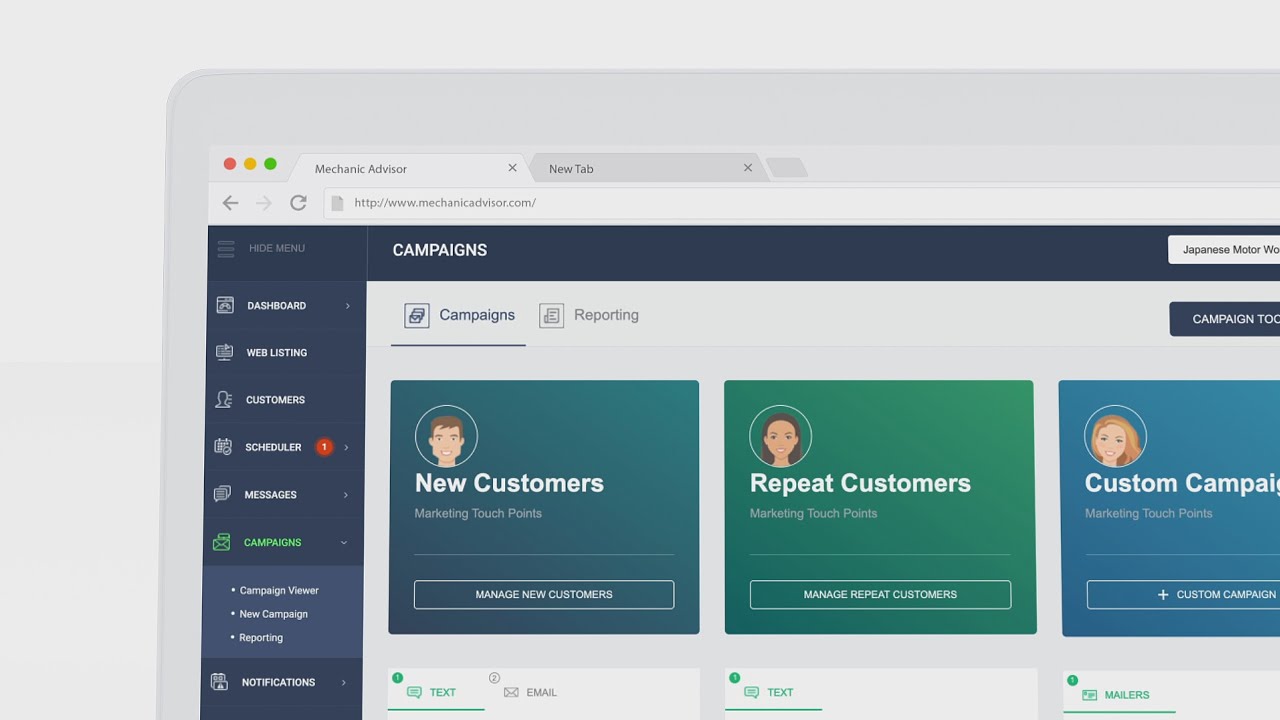 Learn more about Mechanic Advisor!
Mechanic Advisor, the leading automotive CRM provider, offers automated systems that seamlessly integrate into existing platforms, making installation as easy as "plug and play". This system will identify how to keep your customers informed and coming back for all of their vehicle services.
RPM PROGRAM - RIGHT FIT MARKETING FOR EVERY SHOP
RPM has everything under the hood to drive more customers to your shop. We tinker with each part of the program to optimize results and help you achieve your goals at your ideal budget. Regardless of the level you choose, you'll get all the parts that make up an effective digital marketing program, including a powerful website with custom content, pay-per-click marketing, search engine optimization, and social media. Like the tires on a car, you won't get very far if one of these falls flat!
https://autoshopsolutions.com/wp-admin/post.php?post=18631&action=edit#
Our Customers Say it Best
"I love working with the folks at AutoShop Solutions. My marketing rep, Brian gets back to me with lightning speed, and their team are always dialing in my social media and email campaigns. Every person I have talked within this organization seems to care about my business, and my marketing concerns genuinely. Most importantly, my numbers are up! Our SEO reports are strong and my Google AdWords campaigns are bringing in a ton of leads."
- Reggie Stewart
Reggie's Motorworks
80% Increase In Google My Business Clicks
41% Increase In Organic Web Traffic
52% Increase in Google Ad clicks